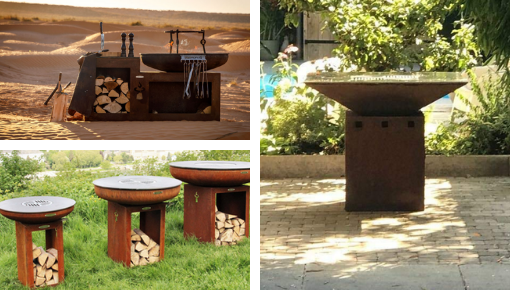 Fire bowl, Fire pit BBQ, griddle, plancha, barbecue and grill on a wood fire
Well, how to call this fire bowl, Fire pit BBQ, plancha or barbecue on wood? Ofyr was the first brand to bring such a model to the market and now there are a dozen manufacturers who have released variants of the Ofyr. But there is still no name for this v
Read more
Free delivery from 99,-€!*
Fire bowl, Fire pit BBQ, griddle, plancha, barbecue and grill on a wood fire
Well ... how to call this fire bowl, Fire pit BBQ, plancha or barbecue on wood? Ofyr was the first brand to bring such a model to the market and now there are a dozen manufacturers who have released variants of the Ofyr. But there is still no name for this versatile barbecue, fire bowl, griddle, grill or plancha fired on wood!
Personally, I still find Ofyr the most beautiful, but unfortunately also the most expensive ... We have been selling the Ofyr for years and it is simply a very nice and good product! Although the Ofyr collection is not yet on our new website, we can supply all models, so do not hesitate to request a quote!
In addition, we supply the Remundi brand, which have introduced a few more different models and offer a very extensive collection of accessories! Also a very good product, manufactured in Germany and some models have various useful features such as an ash collector.
But the most important thing is of course the concept itself! A cozy wood fire surrounded by a baking tray or plancha and (optional with many models) a grill over the wood fire! This makes a fire bowl a very versatile barbecue on which you can actually prepare anything. Only real slow cooking and smoking are not possible and as a real carnivore I don't really like it when meat is grilled on a baking tray. Since the meat is in contact with a hot plate with oil, this gives a hard crust. For these reasons, the South African Braai remains my personal favorite! A fire bowl has the advantage that you can unite many people arround it, although you have to take into account the smoke as it does not have a chimney ... (yeah, yeah, it is often said; you have to use good wood if you suffer from smoke ... not quite true, oil and grease from the baking tray runs into the fire, which burns and smokes ... nothing to do about it ;-)
The design of the fire bowls remains of course very attractive to most people and an Ofyr or other fire bowl is a real asset to the look of your garden! I am convinced that you will enjoy such a barbecue on wood!
Please follow our blog: "Le Coin Cuisto" for tips and recipes!