Laminated Round Top Wooden Fence Post 9x9x298cm
Round top wooden post for garden fences, laminated wood to prevent cracking and warping, NTR Class A pressure treated wood is highly resistant against rotting. Available in different sizes.
Product description
Round Top Laminated Wooden Fence Post - 9x9x298cm - PLUS
These fence posts from PLUS are laminated to ensure extra stability and strength for your garden enclosures. The wood is produced from Nordic Pine and is pressure treated Class A NTR which is highly resistant to rotting and can withstand being built into the ground. The wood is FSC (Forest Stewardship Council) 70% ensuring forest management sustainability. Thanks to the smooth round top of the post, it will give a beautiful final touch to your garden fence.
For burial, please ensure a hole of at least 90cm.
Specifications :
Material : Laminated NTR Class A Label pressure treated Nordic Pine FSC Mix 70%
Post Widths : 9x9cm
Post Lengths Available : 98cm, 128cm, 148cm, 158cm, 188cm, 208cm, 238cm, 268cm, 298cm
Weight : 14kg
Colour : Natural Wood
Take the time to watch the video below to further help building your garden fences :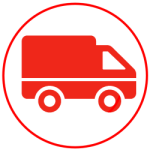 Transporting Posts, boards and fences
Unfortunately, we can not provide free shipping over €99 as the transport and packaging costs for these posts are much higher. This is why, once you have added the item to your basket; you will see the transport costs included in the final price.

Product information
| | |
| --- | --- |
| Article code | 20370-1 |
| SKU | 8020370-1 |
| EAN | 5703393203700 |