Gardens stairs kit ready to assemble - 7 steps H122cm
Information
Garden stairs kit - 7 steps H122cm multiple width's
Free delivery in The Netherlands, Belgium, Luxembourg and France (continental)!

ATTENTION!
We expect inventory shortages for this product during the season of 2021! In case out of stock, you'll see the out of stock message on the right top of this page. next to it, you'll see the date at which we expect to receive new supply.
Don't wait too long, order now to be in front of the queue!
With this kit you get everything you need to make your own outdoor staircase for your garden with ease. Each stair package contains the stringers, the extra thick boards for the stair steps and the stainless steel screws to screw the stair steps onto the stringers. Everything is cut to size, all you have to do is screw the package together! The only tool you need is an (electric) screwdriver with a torx TX20 bit. To attach the stairs to your wall and floor you can use the stainless steel mounting brackets these are supplied with stainless steel screws. Depending on the type of wall, you will have to provide the plugs yourself.
Everything else is ready-made, anyone who has ever touched a screwdriver assembles these stairs in no time!
For more information about the step-by-step installation, please read the instructions Garden stairs
Available kits to build your DYI garden stairs: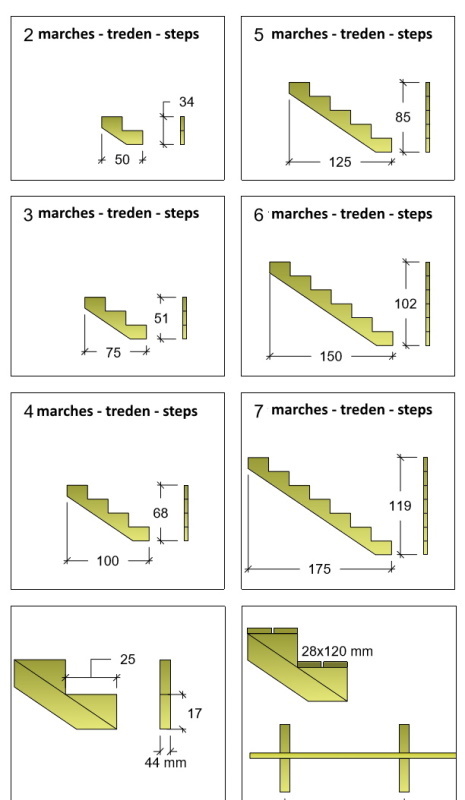 (Tip: do you use a cell phone? Turn your screen to view the wholke table below.)
Please note: when you order an outdoor stair kit with risers, 1 riser with the standard width of 145mm will be delivered for the bottom step, the other risers are cut to 135mm width for the rest of the steps.
Garden stairs kits
Number of
steps
Height
stairs
Width
stairs
Number of
stringers
Number of boards
for the steps
Number and size of
screws
Counter steps
Select this kit by clicking the link
2
37cm
60cm
2x 2 steps
4x 60cm
16x 5x70mm
---
Kit 2 steps, 60cm width, without risers
2
37cm
60cm
2x 2 steps
4x 60cm
24x 5x70mm
2x 60cm
Kit 2 steps, 60cm width, with risers
2
37cm
80cm
2x 2 steps
4x 80cm
16x 5x70mm
---
Kit 2 steps, 80cm width, without risers
2
37cm
80cm
2x 2 steps
4x 80cm
24x 5x70mm
2x 80cm
Kit 2 steps, 80cm width, with risers
2
37cm
100cm
2x 2 steps
4x 100cm
16x 5x70mm
---
Kit 2 steps, 100cm width, without risers
2
37cm
100cm
2x 2 steps
4x 100cm
24x 5x70mm
2x 100cm
Kit 2 steps, 100cm width, with risers
2
37cm
120cm
3x 2 steps
4x 120cm
24x 5x70mm
---
Kit 2 steps, 120cm width, without risers
2
37cm
120cm
3x 2 steps
4x 120cm
36x 5x70mm
2x 120cm
Kit 2 steps, 120cm width, with risers
2
37cm
140cm
3x 2 steps
4x 140cm
24x 5x70mm
---
Kit 2 steps, 140cm width, without risers
2
37cm
140cm
3x 2 steps
4x 140cm
36x 5x70mm
2x 140cm
Kit 2 steps, 140cm width, with risers
2
37cm
160cm
3x 2 steps
4x 160cm
24x 5x70mm
---
Kit 2 steps, 160cm width, without risers
2
37cm
160cm
3x 2 steps
4x 160cm
36x 5x70mm
2x 160cm
Kit 2 steps, 160cm width, with risers
 
 
 
 
 
 
 
 
3
54cm
60cm
2x 3 steps
6x 60cm
24x 5x70mm
---
Kit 3 steps, 60cm width, without risers
3
54cm
60cm
2x 3 steps
6x 60cm
36x 5x70mm
3x 60cm
Kit 3 steps, 60cm width, with risers
3
54cm
80cm
2x 3 steps
6x 80cm
24x 5x70mm
---
Kit 3 steps, 80cm width, without risers
3
54cm
80cm
2x 3 steps
6x 80cm
36x 5x70mm
3x 80cm
Kit 3 steps, 80cm width, with risers
3
54cm
100cm
2x 3 steps
6x 100cm
24x 5x70mm
---
Kit 3 steps, 100cm width, without risers
3
54cm
100cm
2x 3 steps
6x 100cm
36x 5x70mm
3x 100cm
Kit 3 steps, 100cm width, with risers
3
54cm
120cm
3x 3 steps
6x 120cm
36x 5x70mm
---
Kit 3 steps, 120cm width, without risers
3
54cm
120cm
3x 3 steps
6x 120cm
54x 5x70mm
3x 120cm
Kit 3 steps, 120cm width, with risers
3
54cm
140cm
3x 3 steps
6x 140cm
36x 5x70mm
---
Kit 3 steps, 140cm width, without risers
3
54cm
140cm
3x 3 steps
6x 140cm
54x 5x70mm
3x 140cm
Kit 3 steps, 140cm width, with risers
3
54cm
160cm
3x 3 steps
6x 160cm
36x 5x70mm
---
Kit 3 steps, 160cm width, without risers
3
54cm
160cm
3x 3 steps
6x 160cm
54x 5x70mm
3x 160cm
Kit 3 steps, 160cm width, with risers
 
 
 
 
 
 
 
 
4
71cm
60cm
2x 4 steps
8x 60cm
32x 5x70mm
---
Kit 4 steps, 60cm width, without risers
4
71cm
60cm
2x 4 steps
8x 60cm
48x 5x70mm
4x 60cm
Kit 4 steps, 60cm width, with risers
4
71cm
80cm
2x 4 steps
8x 80cm
32x 5x70mm
---
Kit 4 steps, 80cm width, without risers
4
71cm
80cm
2x 4 steps
8x 80cm
48x 5x70mm
4x 80cm
Kit 4 steps, 80cm width, with risers
4
71cm
100cm
2x 4 steps
8x 100cm
32x 5x70mm
---
Kit 4 steps, 100cm width, without risers
4
71cm
100cm
2x 4 steps
8x 100cm
48x 5x70mm
4x 100cm
Kit 4 steps, 100cm width, with risers
4
71cm
120cm
3x 4 steps
8x 120cm
48x 5x70mm
---
Kit 4 steps, 120cm width, without risers
4
71cm
120cm
3x 4 steps
8x 120cm
72x 5x70mm
4x 120cm
Kit 4 steps, 120cm width, with risers
4
71cm
140cm
3x 4 steps
8x 140cm
48x 5x70mm
---
Kit 4 steps, 140cm width, without risers
4
71cm
140cm
3x 4 steps
8x 140cm
72x 5x70mm
4x 140cm
Kit 4 steps, 140cm width, with risers
4
71cm
160cm
3x 4 steps
8x 160cm
48x 5x70mm
---
Kit 4 steps, 160cm width, without risers
4
71cm
160cm
3x 4 steps
8x 160cm
72x 5x70mm
4x 160cm
Kit 4 steps, 160cm width, with risers
 
 
 
 
 
 
 
 
5
88cm
60cm
2x 5 steps
10x 60cm
40x 5x70mm
---
Kit 5 steps, 60cm width, without risers
5
88cm
60cm
2x 5 steps
10x 60cm
60x 5x70mm
5x 60cm
Kit 5 steps, 60cm width, with risers
5
88cm
80cm
2x 5 steps
10x 80cm
40x 5x70mm
---
Kit 5 steps, 80cm width, without risers
5
88cm
80cm
2x 5 steps
10x 80cm
60x 5x70mm
5x 80cm
Kit 5 steps, 80cm width, with risers
5
88cm
100cm
2x 5 steps
10x 100cm
40x 5x70mm
---
Kit 5 steps, 100cm width, without risers
5
88cm
100cm
2x 5 steps
10x 100cm
60x 5x70mm
5x 100cm
Kit 5 steps, 100cm width, with risers
5
88cm
120cm
3x 5 steps
10x 120cm
60x 5x70mm
---
Kit 5 steps, 120cm width, without risers
5
88cm
120cm
3x 5 steps
10x 120cm
90x 5x70mm
5x 120cm
Kit 5 steps, 120cm width, with risers
5
88cm
140cm
3x 5 steps
10x 140cm
60x 5x70mm
---
Kit 5 steps, 140cm width, without risers
5
88cm
140cm
3x 5 steps
10x 140cm
90x 5x70mm
5x 140cm
Kit 5 steps, 140cm width, with risers
5
88cm
160cm
3x 5 steps
10x 160cm
60x 5x70mm
---
Kit 5 steps, 160cm width, without risers
5
88cm
160cm
3x 5 steps
10x 160cm
90x 5x70mm
5x 160cm
Kit 5 steps, 160cm width, with risers
 
 
 
 
 
 
 
 
6
105cm
60cm
2x 6 steps
12x 60cm
48x 6x70mm
---
Kit 6 steps, 60cm width, without risers
6
105cm
60cm
2x 6 steps
12x 60cm
72x 6x70mm
6x 60cm
Kit 6 steps, 60cm width, with risers
6
105cm
80cm
2x 6 steps
12x 80cm
48x 6x70mm
---
Kit 6 steps, 80cm width, without risers
6
105cm
80cm
2x 6 steps
12x 80cm
72x 6x70mm
6x 80cm
Kit 6 steps, 80cm width, with risers
6
105cm
100cm
2x 6 steps
12x 100cm
48x 6x70mm
---
Kit 6 steps, 100cm width, without risers
6
105cm
100cm
2x 6 steps
12x 100cm
72x 6x70mm
6x 100cm
Kit 6 steps, 100cm width, with risers
6
105cm
120cm
3x 6 steps
12x 120cm
72x 6x70mm
---
Kit 6 steps, 120cm width, without risers
6
105cm
120cm
3x 6 steps
12x 120cm
108x 6x70mm
6x 120cm
Kit 6 steps, 120cm width, with risers
6
105cm
140cm
3x 6 steps
12x 140cm
72x 6x70mm
---
Kit 6 steps, 140cm width, without risers
6
105cm
140cm
3x 6 steps
12x 140cm
108x 6x70mm
6x 140cm
Kit 6 steps, 140cm width, with risers
6
105cm
160cm
3x 6 steps
12x 160cm
72x 6x70mm
---
Kit 6 steps, 160cm width, without risers
6
105cm
160cm
3x 6 steps
12x 160cm
108x 6x70mm
6x 160cm
Kit 6 steps, 160cm width, with risers
 
 
 
 
 
 
 
 
7
122cm
60cm
2x 7 steps
14x 60cm
56x 5x70mm
---
Kit 7 steps, 60cm width, without risers
7
122cm
60cm
2x 7 steps
14x 60cm
84x 5x70mm
7x 60cm
Kit 7 steps, 60cm width, with risers
7
122cm
80cm
2x 7 steps
14x 80cm
56x 5x70mm
---
Kit 7 steps, 80cm width, without risers
7
122cm
80cm
2x 7 steps
14x 80cm
84x 5x70mm
7x 80cm
Kit 7 steps, 80cm width, with risers
7
122cm
100cm
2x 7 steps
14x 100cm
56x 5x70mm
---
Kit 7 steps, 100cm width, without risers
7
122cm
100cm
2x 7 steps
14x 100cm
84x 5x70mm
7x 100cm
Kit 7 steps, 100cm width, with risers
7
122cm
120cm
3x 7 steps
14x 120cm
84x 5x70mm
---
Kit 7 steps, 120cm width, without risers
7
122cm
120cm
3x 7 steps
14x 120cm
126x 5x70mm
7x 120cm
Kit 7 steps, 120cm width, with risers
7
122cm
140cm
3x 7 steps
14x 140cm
84x 5x70mm
---
Kit 7 steps, 140cm width, without risers
7
122cm
140cm
3x 7 steps
14x 140cm
126x 5x70mm
7x 140cm
Kit 7 steps, 140cm width, with risers
7
122cm
160cm
3x 7 steps
14x 160cm
84x 5x70mm
---
Kit 7 steps, 160cm width, without risers
7
122cm
160cm
3x 7 steps
14x 160cm
126x 5x70mm
7x 160cm
Kit 7 steps, 160cm width, with risers
Specifications
Product
| | |
| --- | --- |
| Article number: | 93107060 |
| EAN: | 3701483700117 |
| SKU: | 93107060 |
| VAT: | 20% |
| Packaging dimensions: (LxWxH): | 215 x 25 x 11 |
| Weight: | 29000 |
| Colli: | 2 |
Reviews
average of 1 review(s)
By
:
Seppecher
Date
:
21/04/2021
Super Acheter pour accéder à mon chalet montage en une heure rendu impeccable encore merci