48 Ginger-Sesame Premium bisquettes Bradley smoker
|
Information
Free delivery in France, The Netherlands, Belgium and Luxemburg as from 99,-€!
48 premium Ginger-Sesame smoking bisquettes for Bradley smoker
Premium Ginger-Sesame flavour bisquettes for Bradley smoker for beef, vegetables, duck, and lamb.
Ginger-Sesame-flavoured bisquettes take your backyard BBQ to another level with hop-infused smoked food.
Premium Bisquettes are the newest line of Bradley Flavor Bisquettes®, featuring spices and herbs to enhance the taste and aroma of your favorite smoked dishes.
The Ginger Sesame Bisquettes will add bold flavour to your next smoked meal.
We paired our strong mesquite bisquettes with the rich flavours of sesame and ginger, to create an amazing smoked flavour like no other.
These bisquettes pair well with beef, vegetables, duck, and lamb.
SPECIAL OFFER!!!
Order multiple boxes of Bradley smoker flavour bisquettes to benefit from our special offer!
You can mix all available Bradley flavours and boxes of 48 or 120 pieces.
Apply the following discount code in your cart:
3 boxes or more: 5% discount, discount code: Bradley-min3
5 boxes or more: 10% discount, discount code: Bradley-min5
10 boxes or more: 15% discount, discount code: Bradley-min10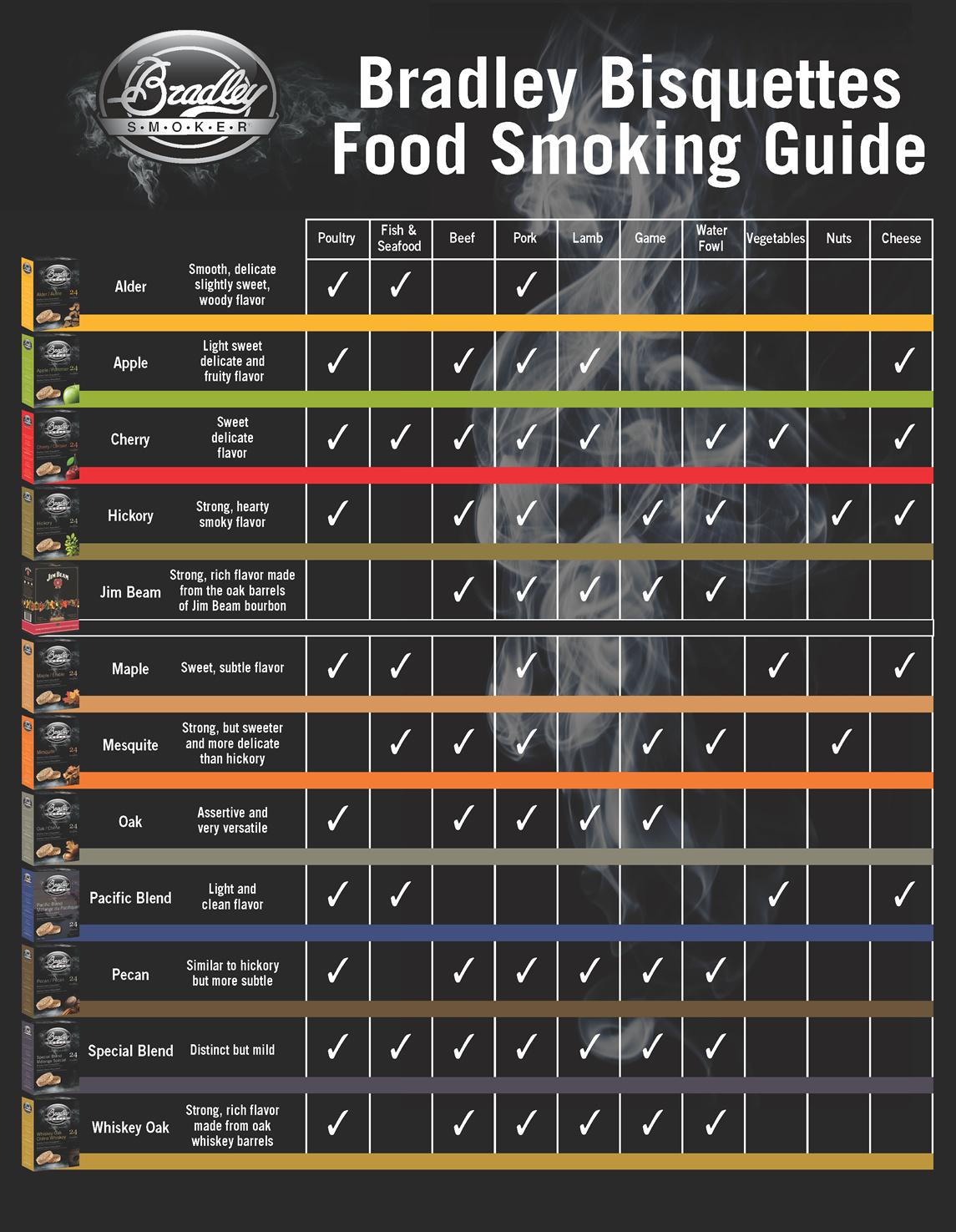 Specifications
Product
| | |
| --- | --- |
| Article number: | BTGS48 |
| EAN: | 689796220023 |
| SKU: | 583548 |
| VAT: | 20% |
| Packaging dimensions: (LxWxH): | 14 x 13 x 21 |
| Weight: | 1000 |
Reviews
average of 2 review(s)
By
:
Etic DENIS
Date
:
02/01/2020
Suite à ma commande de biquettes Bradley pour le fumage, je ne peux que féliciter le professionnalisme de VINUOVO. En effet, je recevais mon colis avec un bon emballage à peine deux jours après ma commande.. Bravo et merci pour cette prouesse en pleine période de grève !
Quant aux produits commandés, il s'agit de biquettes de bois de fumage et il est à noter que VINUOVO dispose des toutes nouvelles essences proposées par Bradley. J'en ai pris 3 pour essayer, à savoir le Hunter Blend, la Beer et la Ginger sésame que je n'ai pas encore essayés et pour lesquelles je ne peux donc encore donner un avis. Par contre, j'ai eu le temps d'utiliser les bisquettes Pécan pour fumer à froid des filets de saumon pour les fêtes et c'est vraiment une réussite (selon mes convives et moi-même). Voilà une essence de bois qui peut remplacer notre habituel hêtre avec brio. je vous remercie encore pour votre site et votre professionnalisme.
By
:
Michel-André MIREBEAU
Date
:
15/10/2019
nous vous confirmons être parfaitement satisfait de notre commande passée chez vous,
produits originaux à un prix compétitif, préparation et expédition rapide, colis bien confectionné, respect des délais, commande facile à passer sur le site.