Vinuovo
Hardwood decking board Red Balau 28x145mm ASR
Buy 20 for €21,38 each and save 5%
Buy 50 for €20,25 each and save 10%
Hardwood decking board Red Balau 28x145mm ASR
Product description
Hardwood decking board Red Balau 28x145mm ASR - 1 side smoothly surfaced and 1 side with 7 grooves

Red Balau is not a new decking product. In fact you have probably already seen it in other products. The Shorea genus brings us a multitude of products known by other names.
Red Balau is just one of the species in the Shorea genus and has been on the market as a decking product for many years as well. It is an excellent tropical decking solution with superior insect and rot resistance.
It is hard and durable and much more color consistent than other tropical decking species like Meranti, Ipe and Cumaru. The grain is tight with smaller pores and despite its interlocked grain, so you won't find the striping and raised grain common with other products. Best of all it is a beautiful, rich reddish brown decking board that is clear of defects, so you have much less waste during the installation.
Red Balau not only is a beautiful and durable alternative to Meranti, Ipe or Cumaru, but it can often be obtained much cheaper! The key difference with our Red Balau and the popular Meranti decking products is that we source a specific species of the Shorea genus, and therefore can give you a much more consistent color match between boards. Most Meranti decking is a conglomeration of multiple Shorea species with variegated grain and color.
All our Red Balau decking is from sustainable, permanent forests, and is available FSC certification.
Profile: 28x145mm ASR - 1 side smoothly surfaced and 1 side with 7 grooves
Names: Bangkirai / Red Balau / Damar Laut / Selangan Batu / Shorea atrivernosa
Origin: Indonesia and Maleisia
Color: Brown red
Hardness Janka: 7.300 N
Application class: 4
Durability class: 2 - durable - 15-25 years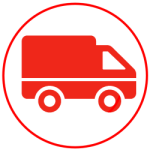 Shipping of planks and posts longer than 200cm.
Unfortunately, shipping and packaging of planks and posts longer than 200cm is a costly affair. As a result, we cannot offer you free delivery from 99 €. When you put planks and posts longer than 200cm in your basket, you will see that transport costs are charged.
FREE delivery is only possible for orders from € 750 in the Netherlands, Belgium, Luxembourg and France.
For free delivery you can enter the discount code FREE750 in your basket.
Product information
| | |
| --- | --- |
| Brand | Vinuovo |
| Article code | 72297-120 |
| SKU | 72297-120 |
| EAN | 3701483704368 |
5,0/5
average of 1 review(s)
Bien reçu le colis, qualité impeccable.
Le lendemain, l´escalier était placé très facilement.
Dommage que vous n´aviez pas de rampe