Vinuovo
Hardwood platform for garden stairs height 88cm - 5 steps
Hardwood platform for garden steps height 35cm (5 steps)
Product description
Hardwood staircase platform for outdoor staircase - building kit
Free delivery in France (mainland), The Netherlands, Belgium and Luxemburg!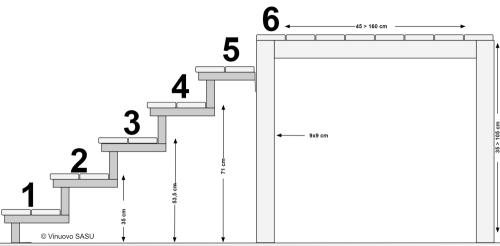 This hardwood staircase platform is specially designed to be combined with our steel-hardwood gardenstairs. The standard heights are adapted to the height of the stairs.
Although the stairs have a maximum height of 5 steps, the stair platform also exists at a height of 6 steps. If you mount a 5-step staircase against it, the staircase platform itself forms the 6th step.
You can, of course, put another outdoor staircase on the staircase platform, so that you can create an outdoor staircase in steel/hardwood of 11 steps high with just 1 platform! (194cm high!). Upon request, we are able to propose another platform of this height, so that you can even go higher adding another staircase on that platform...
Are you not a handyman? Then you probably feel lost already! Kang on, we are going to try and guide you.
PLease read here under the explanations of Audrey and Alies, also, please do not hesitate to get direclty in touch with our Customer service or through our chat. Alies, Audrey and Vincent will be most pleased to advice and guide you!
Are you a handyman? Then read Vincent's technical explanation. Hopefully all your questions will then be answered!
Please read also:
How do you make a banister or balustrade for your outdoor staircase?
How to choose a garden staircase?
How do you choose good timber?
Why use a hardwood platform for your external staircase?
You can use the platform to extend or raise your outdoor staircase.
You can use the platform as a terrace or balcony / veranda in front of your door.
You can use the platform to create an angle in your external staircase.
How do you lengthen or heighten your outdoor staircase?
Steel stringers are only available up to a height of 5 steps, that is 88cm high including the steps.
Many people would like a higher staircase and we have 2 solutions for this:
Extension support for an external staircase in hardwood
Outdoor staircase platform in hardwood
With the extension support, you can attach 2 stair stringers to each other; with the stair platform, you can create a platform, terrace or balcony between 2 stair stringers.
The stair platform also allows you to create an angle between two staircases.
What is included in the construction kit of the hardwood platform for an outdoor staircase?
The kit contains everything you need, and if you need anything additional, it is of course possible to order separately.
Contents:
4 hardwood uprights in the height of the selected platform
3 hardwood beams in the width of the selected platform. You only need 2 beams for the platform itself, with the 3rd additional beam you can mount the stringers at any height. This allows you to use the platform as an extra step or to compensate for height differences.
2 hardwood beams in the length of the selected platform. (Platforms of 1 metre or more in width contain 1 extra beam lengthwise to support the floor properly).
Sufficient extra heavy duty stainless steel screws Ø8x180mm to screw all posts together.
Hardwood decking boards from Bangkirai, 28mm thick and 145mm wide. The boards are sawn to size in the width of the platform for your outdoor stairs.
Most platforms have a length that corresponds to an exact number of planks. However, we have also designed square platforms so that you can build your outdoor staircase in a corner. For the square platforms, you may need to cut one board to size lengthwise. We deliberately do not do this for you: depending on the free space you choose between the planks and the drying/working of the wood during storage and transport, we think it is better that you choose the exact width yourself and make the last plank to measure. This also allows you to correct size differences due to mounting or crooked/shortened walls.
Sufficient Ø5x60mm stainless steel deck screws to secure the boards to the platform.
And we deliver for free in the Netherlands, Belgium, Luxembourg, Germany and France (mainland)! (For deliveries to other countries we charge a fee in order to cover the high expenses involved)

All hardwood beams in this staircase platform kit have the head dimension of 9x9cm and are made of the hardwood Angelim Vermelho. This is the Rolls-Royce of hardwoods that will last even longer than a lifetime!
The stair platform is delivered without the outdoor staircase and without any handrail or balustrade. These items can be found here:: Garden steps
How do you assemble the stair platform?
To help you assemble the stair platform, we have written a blog post, which you can find here: How to make a stair platform?
FAQ - Frequently asked questions:
Question: Can you also make a staircase platform to measure?
Answer: Sure, everything is possible. Our platforms are available in many different standard sizes, but longer, wider or higher is possible, no problem. This does involve a lot of extra work for us, so it will be a slightly more expensive.
If you have a good sawing machine, you can of course cut one of the standard sizes yourself in order to fit.
Please do not hesitate to contact Customer service and send us an Email with your wishes ( and pictures), we are more then pleased to advice and help you! Communicating per Whatsapp or just simply calling us if of course also possible, for English, Dutch or German; 0033 7 83 39 26 80
Question: I would like to use the platform as a landing stage in the water. Is that possible?
Answer: Sure, this is possible, the platform is made from Angelim Vermelho hardwood, which is even resistant to saltwater. It will probably be a little tricky to place the platform straight on the bottom/ground. If you need longer poles, please let us know, that's no problem. Angelim Vermelho poles are also excellent for creating a free-hanging landing stage above the water surface. You only need to provide sufficient counterweight, but that can be done, for example, by placing a large flower box with a lot of heavy soil on the other side of the posts.
Question: I find such a staircase platform expensive... Why is that?
Answer: Unfortunately, there is a huge timber (and steel) shortage on the worldmarket, and prices have risen dramatically as a result. Trees do not grow fast, and it is expected that these prices will only increase further in the coming years. This year (2021), the wood prices have risen by more than 30%, the stainless steel for our screws even by more than 40%! Our Angelim Vermelho comes from South America, the Bankirai from Malaysia. The transport prices of containers have quadrupled this year! Hardwood is also very heavy (the poles weigh 10kg per metre!) so the delivery to your home also costs a lot of money.
Fortunately, a hardwood staircase will last the rest of your life, an investment that may be worthwhile.
Product information
| | |
| --- | --- |
| Brand | Vinuovo |
| Article code | 939-5M-088-060-045 |
| SKU | 939-5M-088-060-045 |