Homefires Braai Built-in 1200 from South Africa
Information
Free delivery in The Netherlands, Belgium, Luxembourg and France (continental)!
Homefires Braai Built-in 1200 from South Africa

The very popular and well-known Home Fires Built-in braais can be installed totally outdoors or indoors (pending local regulations) enabling excellent entertainment regardless of bad weather.
A potjie fitting and various options of grids, steak plates and bread oven, can serve a variety of entertainment needs.
The Built-in braais from Home Fires provide home entertainment at its best. The units may be installed indoors or outdoors and guarantee completely smoke-free use. Thus eliminating the irritating smoke always associated with braais.
Built-in braai 120cm
with 2x50cm braai grids
Ember maker
Ash pan
2 drawers
brand: Homefires South Africa
How to connect your Home Fires Braai to a single or double wall flue pipe?
In case you would like to build-in a Home Fires Braai in your poolhouse, garden house, porch or indoors in your home, the easiest way is to use a single or double pipe adapter for standard stainless steel chimney or flue pipes. Please check-out our blog regarding the Home Fires Braai flue pipe adapters: How to connect your Home Fires Braai to a single or double wall flue pipe?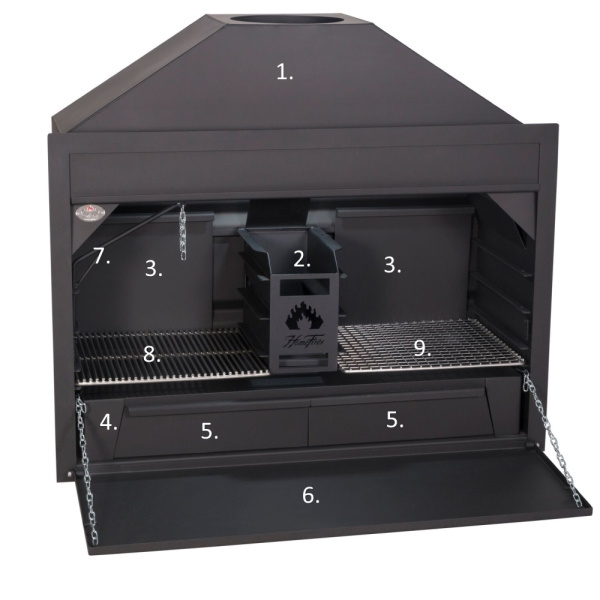 Braai unit
ember maker
2 heat deflectors
ash pan
2 warming drawers
bottom and top door
potjie hook
steak grid 50x48 cm
standard grid 50x48 cm
poker (not on photo)
gravie - spade (not on photo)
Dimensions: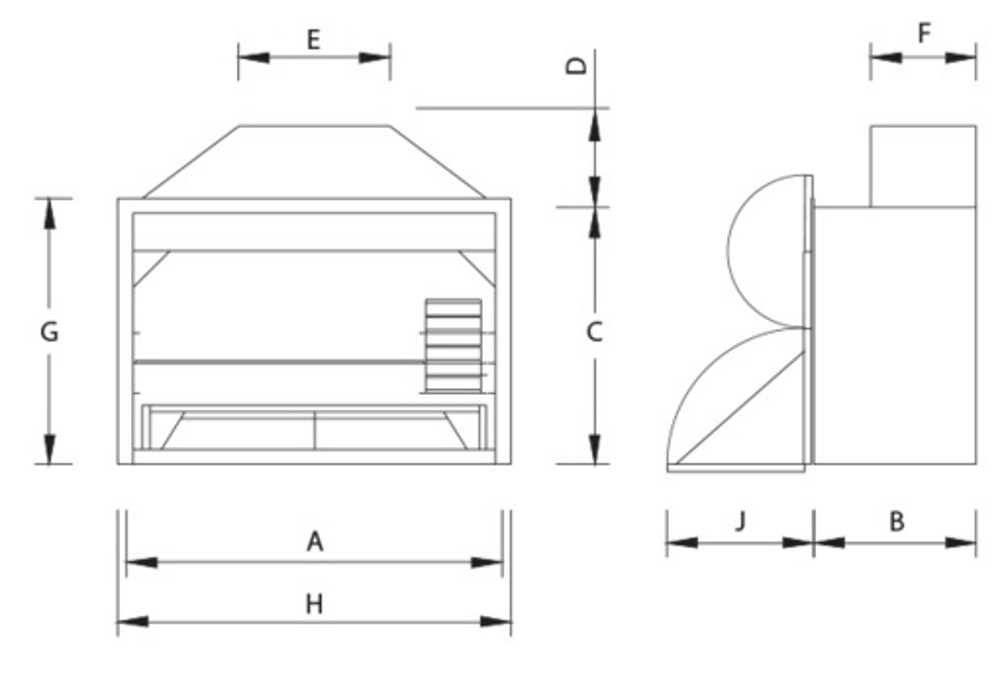 Specifications
Product
| | |
| --- | --- |
| Article number: | BI1200-19 |
| SKU: | 41120 |
| Packaging dimensions: (LxWxH): | 120 x 80 x 140 |
| Weight: | 226000 |
Reviews
average of 2 review(s)
By
:
Dhr Detournay
Date
:
08/09/2020
Beste,
Kunt u ons aub meer technische informatie bezorgen van:
Home Fires Braai BI1000 en BI1200 inbouw model - barbecue op hout
Welk is het vermogen / KW?
Het is de bedoeling dat deze in een overkapping geplaatst wordt.
Is er een rookgasventilator nodig?
Welk rookkanaal dient er voorzien te worden?
Met vriendelijke groeten,

Vinuovo Klantenservice
Geachte heer Detournay,

Het is lastig een indicatie van het vermogen van de Braai te geven aangezien alles afhangt van de kwaliteit van het hout (vochtgehalte/houtsoort) dat u gebruikt voor het vuur en hoe hoog u het vuur opstookt natuurlijk!
Het afgegeven vermogen kan variëren van 2KW tot wel 12KW. Houd er rekening mee dat de temperatuur in het midden van de Braai, aan de achterkant, op kan lopen tot wel 700°C. Het is daarom verstandig wat ruimte te houden tussen de achterkant van de Braai en de muur erachter zodat er lucht kan circuleren. De muur achter de Braai kunt u het beste beschermen met een gipsplaat die bestand is tegen vuur, die kunt u bij de meeste bouwmarkten gewoon kopen.

Onder een overkapping plaatsen is uiteraard geen probleem mits u voldoende afstand tussen de Braai en brandbare materialen houdt.

De diameter van het rookkanaal is afhankelijk van het type Braai, dit staat bij het model aangegeven. Wij raden u ten zeerste aan deze diameter niet te verkleinen. Het rookkanaal dient minstens 100cm lang te zijn om een goede trek te verkrijgen. Houd er bij een dak doorvoer rekening mee dat u de pijp isoleert omdat deze warm wordt. Volg verder de lokale regelgeving, daar kunnen wij u niet in adviseren.
Bij iedere Braai kunt u een verloopstuk bestellen waarmee u een dubbelwandige schoorsteenpijp op de Braai aan kunt sluiten. Dubbelwandige pijp en andere materialen kunt gewoon op internet bestellen of bij een bouwmarkt kopen.

Een rookgasventilator is normaal gesproken niet nodig mits uw rookkanaal voldoende lengte heeft om een goede trek te verkrijgen en boven de nok van het gebouw uitkomt. Wanneer de het rookkanaal vlak bij een muur eindigt, of onder de nok van het dak, kan het zijn dat er bij harde wind een overdruk bij de uitgang ontstaat en dat de rook "terug geblazen" wordt in het rookkanaal. Heeft u daar last van, dan kunt u de schoorsteen kap vervangen door een draaibare bol, deze draait door de wind, voorkomt terugslag en zuigt de rook omhoog in de pijp. Deze zijn gewoon in de handel te verkrijgen en hiermee is het probleem meestal opgelost.

Bij twijfel raden wij u altijd aan een deskundige te raadplegen.

Mocht u in de tussentijd vragen hebben dan horen wij dat natuurlijk graag!
Met vriendelijke groeten,
By
:
Benjamin GERARD
Date
:
10/01/2020
Je vous confirme la bonne réception de mon braai, merci de votre suivi actif et de votre réactivité durant tout le processus transactionnel.
Dès qu'il sera en place je vous ferai parvenir quelques photos.
Excellente continuation !