Plus Danemark
Slotted Fence Post - 268x9x9cm - Laminated Wood
With this H shaped slotted post made from laminated wood; you can custom design and build your own garden fence. Measuring at 268x9x9cm this post is adaptable with both KLINK and PLANK collections from PLUS, Denmark.
Product description
H Slotted Fence Post - 268x9x9cm - Laminated Wood
From the Danish brand PLUS, this H slotted fence post allows you to custom design your garden fence. This post is designed with grooves on both sides allowing you to connect your KLINK or PLANK fences easily yourselves.
This slotted post is made from pressure treated wood with the FSC and NTR Class A Labels. FSC (Forest Stewardship Council) label ensures sustainable forest management, and NTR Class A label indicates that the wood is well protected against rot and can withstand being built into the ground.

Allow a hole of at least 90cm for the post to go into.
You can cut the post to size. The slotted H post is made of 2 parts glued together ensuring durability, stability and prevents warping and cracking.
The H post is available in 2 colours and styles; natural - classic, or black stained - modern.
Specifications :
Material: Pine/Fir, FSC wood 70% mix with NTR Class A Label pressure treated
Dimensions : LxWxH: 268x9x9cm
Internal Slot Widths : 30mm; Depth : 17mm
Weight : 12kg
Other Information :
Also available as end posts or corner posts.
Comes in natural wood colour or stained black.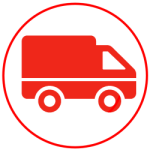 Transporting Posts, boards and fences
Unfortunately, we can not provide free shipping over €99 as the transport and packaging costs for these posts are much higher. This is why, once you have added the item to your basket; you will see the transport costs included in the final price.

Are you ordering 5 or more posts? Complete your order, check your shopping basket - once confirmed, choose Bank Transfer as your payment method. Do NOT pay, just confirm your order, and we will make you an offer based on the information you have provided. If you would like more advice, don't hesitate to contact us at [email protected]
Product information
| | |
| --- | --- |
| Brand | Plus Danemark |
| Article code | 17758-1 |
| SKU | 817758-1 |
| EAN | 5703393177582 |