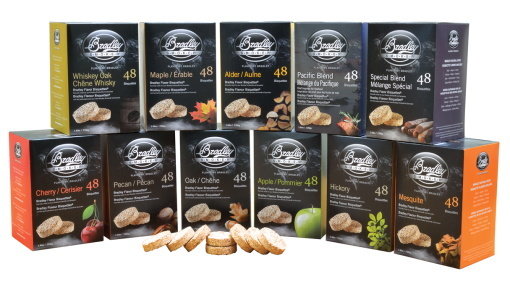 Smoking flavour bisquettes for Bradley smoker
The key to the success of Bradley Smokers is Bradley Flavour Bisquettes. The flavour of the smoke is determined by the variety of wood being burned. To produce the bisquettes, the hardwood chippings are bound together using precise quantities, at controll
Read more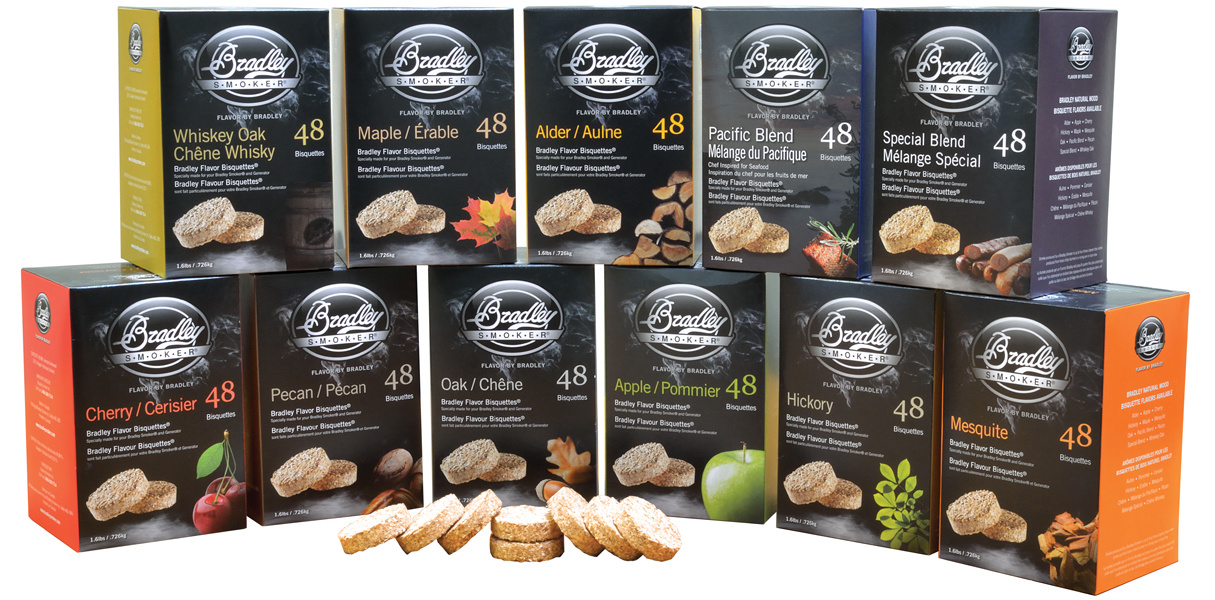 Free delivery in France, The Netherlands, Belgium and Luxemburg as from 99,-€!
Smoking flavour bisquettes for Bradley smoker
The key to the success of Bradley Smokers is Bradley Flavour Bisquettes. To produce the bisquettes, the hardwood chippings are bound together using precise quantities, at controlled pressures and densities.
The wide range of flavours guarantées an endless culinary voyage, discovering plenty of new dishes, recepies and flavour combinations over and over again.
The flavour of the smoke is determined by the variety of wood being burned. That in combination with an endless choice of ingredients, fish, meats, vegetables, cheese or even nuts, will suprise you, your family and friends over and over again.
Alder and maple give a rich and distinct flavour commonly used with seafood hams and bacon.
The stronger and very distinct flavours of mesquite and hickory are commonly used for smoking beef and pork products such as pork shoulders and beef brisket.
Apple and cherry impart a sweeter, milder smoke flavour, commonly used with poultry and wild game meat.
See the Flavour Guide tab for more details on wood types and flavour.
For some ideas on which smoking flavour bisquettes to use for which pprodutcs, please see the falvour table at the bottom of this page.
Consider this list as some advice to start. I strongly recommend you to try and combine over and over again. Use small quantities to test.
For example, if you are smoking à brisket, add some vegetables, a slice of cheese, some nuits, an appel, an onion, whatever you have available, simply to see what happens with the taste... you'll be surprised about the journey you'll take...
For more information regarding the use of Bradley smokers we recommend to follow our blog Le Coin Cuisto for recipies, ideas and user experiences. We don't only sell the Bradley Smokers, we also use them ourselves!
Please also check our blog post FAQ - Frequently Asked Questions regarding your Bradley smoker for more information, tips and trics!
Bradley Smokers burns a flavour bisquette once every 20 minutes, producing a clean smoke flavour. As each is burnt, it is gently pushed from the burner element by the next bisquette, to be extinguished in the pot of water. The cycle continues for as long as the smoker is loaded with bisquettes.
When wood burns, the smoke flavour is produced in the initial minutes of the burn. Once the wood generates enough heat to keep burning on its own, it yields high temperatures, acids, resins and gases. These will distort the flavour and the appearance of smoked food. When wood burns to this stage there is no control over the cooking conditions. With Bradley Flavour Bisquettes the guesswork is eliminated.
Not only do Bradley Flavour Bisquettes eliminate unwanted heat, smoke produced the Bradley way is four times cleaner than smoke produced by identical loose chips burned in a fry-pan or burn-box.
The Bradley Smoker consumes bisquettes at the rate of approximately one every 20 minutes. Operating costs of the smoker are therefore less than 1,40€ per hour.
Bradley smoking bisquettes are available in packs of 48 or 120 pieces.