Vinuovo
Hardwood post 9x9cm - Angelim Vermelho - multiple lengths
A hardwood post 9x9cm in Angelim Vermelho is the best choice for any construction in your garden. Available in multiple lengths.
Product description
A hardwood post of the wood type Angelim Vermelho is really the best choice for all your wooden constructions in the garden. As a fence post, for making a pergola, bridges, horse boxes, everything is possible. Over the years we have tested almost all types of wood ourselves and Angelim Vermelho has been chosen by us as the Rolls-Royce of hardwood posts. The posts remain straight and are easy to work despite their hardness.
Hardwood posts from Angelim Vermelho are ideally suited for making pergolas and as a fence post. Angelim Vermelho is a type of wood with durability class 1 and will last for the rest of your life, even when it is continuously exposed to water.
The color of the fresh wood is a nice warm yellow / brown and the wood ages over time to a beautiful silvery gray.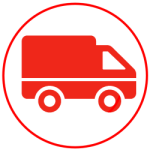 Shipping of screens, glass panels, planks and posts.
Unfortunately, shipping and packaging of screens, glass panels, planks and posts is a costly affair. As a result, we cannot offer you free delivery from 99 €. When you fill your basket, transport costs will be calculated.

Would you like to order 5 screens or more? Please finish your order, select "bank transfer" for payment, confirm your order but DO NOT PAY. We will review your order and provide you with a quote. Would you like to have some more advice? Please contact our team: [email protected]
Product information
| | |
| --- | --- |
| Brand | Vinuovo |
| Article code | 70119-250 |
| SKU | 70119-250 |
Specifications
| | |
| --- | --- |
| Wood type | Angelim Vermelho |
| Finishing | planed with rounded edges S4S - E4E |
| Treatment | none |
| Section | 9x9cm |
| Origin | Brasil |
| Volumic mass | 1000 kgs / m3 at 12% humidity |
| Durability class | 1- very durable > 25 years |
| Application class | 5 - continues contact with salt water |
| Hardness according to Janka | 13.500 N |
| Resistance to fungi | class 1 - very resistant |
| Resistance to insects | durable |
| Resistance to termites | class D - durable |
| Deterioration | low risk of deterioration |